For Drew Doughty, his earliest memories of Dustin Brown were his very first NHL roommate on the road, during his rookie season.
"It's hard to even talk about Brownie, honestly," Doughty said. "He was my roommate my first year in the league, a bit of a father/brother figure to me. He taught me so much right from the start, I love him so much.
Doughty was a rookie at the time, his freshman year in the league. Brown had five pro seasons under his belt and was named team captain in the fall ahead of the 2008-09 season.
On reflection, Doughty used the terms father figure and brother in the same sentence. This is how their relationship grew.
For the first year, Doughty was Brown's coffee guy, bringing a coffee for the veteran to the room every morning on the road.
"At our hotel we would order four desserts, we had two every night before the game, that's one of my memories," Doughty said with a laugh. "I was his coffee tree, every morning I had to go get him his coffee and bring him back. I was the thermostat guy and he was the curtain guy and then I was also the alarm guy I remember one time I put us late in Colorado he gave me [crap] for that one.
Although they were late, Doughty said they found a way to sneak past unnoticed.
As the pair grew as teammates – and they have been since Doughty's rookie season 14 years ago until now – a mentorship turned into a friendship. For all the things a young Dustin Brown passed on to a young Drew Doughty, this is now what an older Drew Doughty passes on as an even older Dustin Brown moves on to the next chapter.
Going into training camp in the fall, without someone Doughty never played in the NHL without, it will definitely be a little different.
"Man, it's gonna be weird being here without him," Doughty added. "I love him and I'm gonna miss him and it's gonna suck, but that's part of the game. People retire and move on, but I don't care because I'll always see him, I I'll talk to him all the time, so I'm not worried about losing a friendship or anything like that, we'll be friends forever."
For Trevor Moore, his first memories came from the stands. The local kid, the team fan, he remembers going to a game when he was young and seeing someone there wearing a Kings jersey pounding the other team's players all over the place on the ice.
"I remember we went to a game and I can't remember my age, and I was like 'who is that guy over there, he just crushed three guys in one shift, who is that type "and it was young Dustin Brown, he was the captain," Moore recalled. "So many great memories of Brownie, it was really cool to play with him."
Anyone who grew up as a Los Angeles Kings fan has probably had a similar time. "Who is that man over there blowing guys up and scoring 30 goals doing it?"
For the most part, that's how that impression stuck. For Moore, however, he was the lucky one who got to see that impression changed. The dynamic shifted for the Thousand Oaks native from that of fan to captain, to that of teammate to teammate. Moore, probably better than anyone, understands what Dustin Brown means to fans of this hockey club. It means more than you can reasonably put into words.
He also now understands what Brown has meant to the organization inside the locker room walls, and he will certainly miss those contributions starting next season.
"Brownie's departure sucks, I think everyone knows he's been a staple of the Los Angeles Kings for so long and was the identity of the Kings," Moore added. "The tenacity, the hockey of the greats, he brought it here and he will be greatly missed."
For many of us, Moore's relationship is most relevant, as we've all watched Dustin Brown play from outside the glass. Moore was just the one who was good enough to fight his way inside those walls.
For those who were always on the inside, however, Brown went to work with the trio of Doughty, Anze Kopitar and Jonathan Quick for most of his career. Brown entered the league as an 18-year-old rookie in 2003. Kopitar joined the NHL roster in 2006, Quick in 2007 and finally Doughty in 2008. Since that time there has never been a team of the Kings who did not present this quartet. of individuals.
As Doughty described him, in the beginning, Brown was the player he looked up to and learned from. And in some ways, it still is to this day. Quick shared sentiments similar to those that everyone who has been an LA King has admired in one way or another.
"That's what he means to this organization, to me, to my family, he's been here since day one for me personally," Quick said. "He's a guy everyone in the locker room has looked up to for a long time. It'll be different, but I'm just happy for him, Nicole, the kids, what they've been able to do in the last 20 years. You're happy for him, the career he was able to have, the impact he was able to have on this organization and this city, you can't say enough about him.
After Game 7 in Edmonton, Kopitar was asked about Brown and could only say five words as the emotions of the situation were overwhelming in the moment.
"I will miss him very much."
When you put their relationship into context, it's understandable, considering how Brown's career officially ended, a loss in Game 7 of a hard-fought playoff series. This interview took place a few minutes after the final buzzer.
Kopitar certainly had more to say about his longtime teammate, but it was hard to say in the moment.
"There are 16 years of friendship and brotherhood that are very difficult to put into words," he said. "When you look at his career, it's a celebration. He's taken this team to a few Stanley Cups, he's been to the Olympics, the leader that every team would want on their team. To be able to share that with him, selfishly, that makes me enjoyed it a lot and I will miss it very much.
In terms of teammates, current Kings general manager Rob Blake shared that relationship with Brown for two seasons, when Blake returned to the organization as a free agent in 2006. That's when Blake was left to end his career in San Jose that the captaincy was officially handed over to Brown and what a fitting transfer of leadership it was.
Blake saw Seasons 3 and 4 of Brown's NHL career and has now overseen the last nine seasons of Brown's career in a managerial role, including the last five as the team's general manager.
From afar, and from conversations with head coach Todd McLellan, Blake has seen first-hand the importance of Brown throughout this season's playoff series.
"For us to have this kind of leadership upstairs, Todd came to me on this show, we talk about lineups every day, and he said look, the greatest leader we have right now is Dustin Brown," Blake explained. "I think once he finished his retirement at the end of the year, he was really proud of what he was going to do in the playoffs. We've been so lucky to have him here for so many years, captaining two Stanley Cup teams, there's not much more to say. He has been everything for the franchise.
From a management perspective, Blake certainly embraces everything Brown has provided and would likely be the first to agree with any of Brown's remarks during his retirement press conference.
"The Kings are in a better position than when I arrived."
From his impact on the ice, his role in delivering two Stanley Cups to Los Angeles, his influence on several up-and-coming players with the leadership he brought to the arena, the relationships and friendships built with teammates and staff and the character he comes to the rink every day.
What everyone above said certainly defines that statement well. The Kings are in a better place in 2022 than they were when Dustin Brown arrived in 2003. And that's something to celebrate.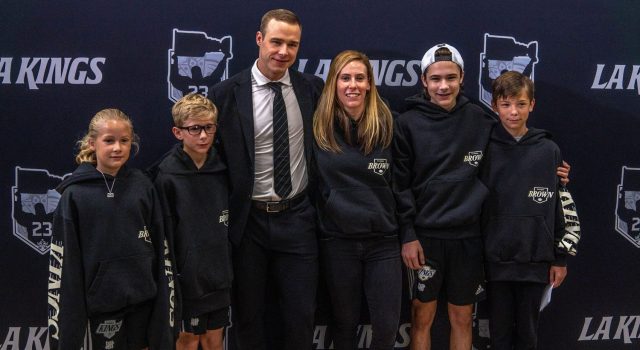 *Insiders, this will be the last story of the weekend, unless there is news from the organization. Plan a few days with the laptop closed and we'll be back with an insider Q&A here on the site early next week, maybe Tuesday or Wednesday, to move on from the roundup coverage here from 2021-22 to the beginnings of a look towards 2022-23. Lots more to come, but fittingly, we'll leave this Dustin Brown story for a few days to continue his last dance here with the Kings.
See you soon, enjoy the weekend!